Thanks for your visiting, if you have one of the following needs:
I want to show a magazine on the website;
I want to convert files into digital magazines with page flip effect;
I hope more people read my magazine.
Then, you can try our best and free Boxoft Free Digital Magazine Maker, to creating your own attractive and amazing flipping magazine with page flipping effect. All the conversion will be take you only few minutes. You just need to import files and use those custom settings to design your magazine. After that, you can click "Convert to Flipping Book" to begin converting. Here is the example: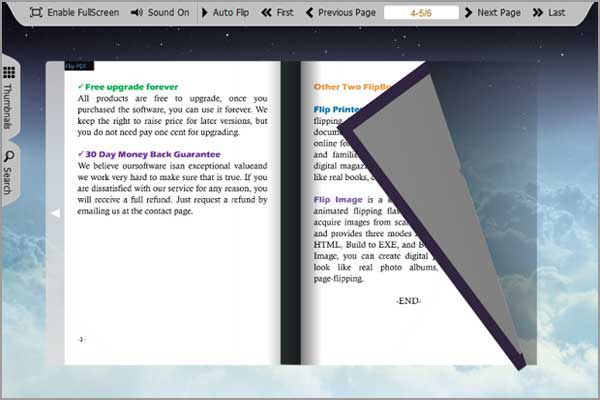 It is really nice, isn't it? And what's more, Boxoft Free Digital Magazine Maker provides multiple features for you to use without any charge. You are able to edit the book title, set password to protect your magazine, change the background color, add background images or music to rich the magazine, enable people to share the magazine with friends via e-mail etc.
After creating such a wonderful page flipping magazine, you can publish it to your website and share to social networks. Everyone will be surprise by your created flipping magazine.
Except for making "flipping-style" digital magazine, you can also create a 3D Flipping book to promote your business presentation, advertising and photo albums in a different way. While people read the 3D magazine online, they can not only flip the book page, but also easy to rotate the magazine in 360 degree. And multiple free pre-designed 3D Templates provided in 3dpageflip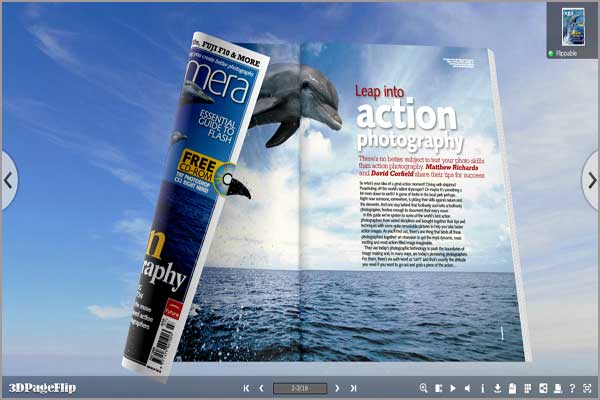 Import TXT files to software
1. Import TXT format file to Digital Magazine Maker;
2. Define the page range: all pages, or custom pages;
3. Choose page quality and size;
4. Add text or images Logo watermark on magazine.
Custom your magazine with functional tools
1. Multiple Free pre-designed themes provided in software;
2. Enable people share the magazine via e-mail;
3. Use bookmark setting to edit the list of book title;
4. Edit the title of magazine easily;
5. Set the book proportions, margin, shadow as you need;
6. Set the background of magazine by adding images;
7. Add the background music for people enjoy;
8. Change the background or icon button color;
9. Show the book from right to left;
10. Add the hard cover effect on the book page;
11. Auto flipping the book page without action;
12. Enable people print out or download the magazine;
13. Enable people read the magazine in full screen;
14. Add password to protect your magazine.
Convert TXT files to flipping magazines
1. Batch convert files to page flipping ebooks at a time;
2. Choose online HTML output formats to converting;
3. Choose offline ZIP or EXE output formats to converting;
4. Simply burn on to CD/DVD.