Create Encrypted Page Flipping Report with Free Page Flip Book Creator
Boxoft Free Page Flip Book Creator is not only an easy page flip book creator, but also a powerful converter to make encrypted page flipping report with single password. With using Boxoft Free Page Flip Book Creator, you can easily design security setting of converted page flipping report.
Make Hardcover Flipping Children Stories Book in Less Time
If you have stories in text file, why not download this free page flip book creator to convert it to flipping children stories book? And you can also add background music to the stories book, insert attracted background image to decorate the stories book etc.
Convert Text to Auto Flipping Presentation for Catching Eye-balls
Have text file to prepare for presentation? If so, the Boxoft Free Page Flip Book Creator would give you good solution to show your plain text presentation in fantastic page flipping book style with running automatically. Don't you think it's amazing?
DIY 3D E-Card for New Year with 3D PageFlip Professional
Would like to send special 3D e-card to friends or colleagues for New Year? 3D PageFlip Professional would be the best choice for you, as it's not only the best 3D flip book maker but also the best 3D e-card creator. With using 3D PageFlip Professional, you can easily make e-card with 3D effect, special background music and even video, flash, photo slideshow… Learn more about 3D PageFlip Professional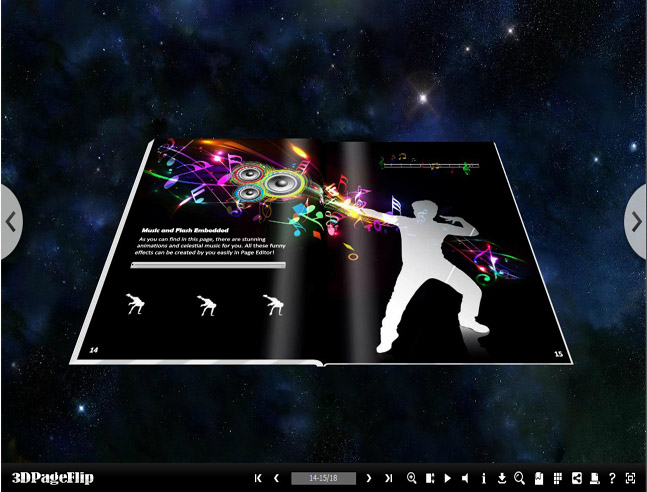 1. Easily convert text to page flip book
2. No limitation for conversion
3. Completely free
4. Customize page shadow
5. Show or hide page flip book frame
6. Insert background sound
7. Customize auto flipping function of page flip book
8. There templates with more than 10 styles themes for designing flipping book
9. Design right to left flipping book
10. Add single password to page flip book
11. Zoom in or zoom out
12. Import links, bookmarks
13. Add/edit bookmarks
14. Show or hide thumbnails
15. Easily change background with changing themes or inserting background file
16. Add book logo