As we know, huge information in our life is distributing and spreading all over the world. We need tools, converters, managers to help us deal with the work! Free Boxoft Flash Flip Book Maker is one of tools, which is designed for digital publication and web sharing. Usually, we use simple text document to record our data. However, simple text document is not enough for further requirement like designing and sharing. In this case, Flash Flip Book Maker helps! The steps are simple, import, simple design and convert. Then you will get a dynamic, stylish and interactive flipping book at once. With choosing HTML output format, you can publish it to cloud and share with your readers and bring them from a traditional reading experience to a brand new level. With EXE format, you can spread the flipping book via a portable storage device. All in all, a great of features are waiting for you! Flip your text document from now on!
However, would you still find it not enough for the ordinary flash flip book? Now let take a look at a special one – 3D PageFlip Professional. It is a professional tool to convert PDF documents to fashion 3D view book with flipping pages! Moreover, you can create pop-up 3D model in a nice flipping book. Finally, publish it and readers can enjoy the amazing interactive contents (3D Image Sphere Gallery, Spinning object with 360 degree, panoramic background which made up of six images, etc) at once! Get to know more about 3D PDF to flipbook converter.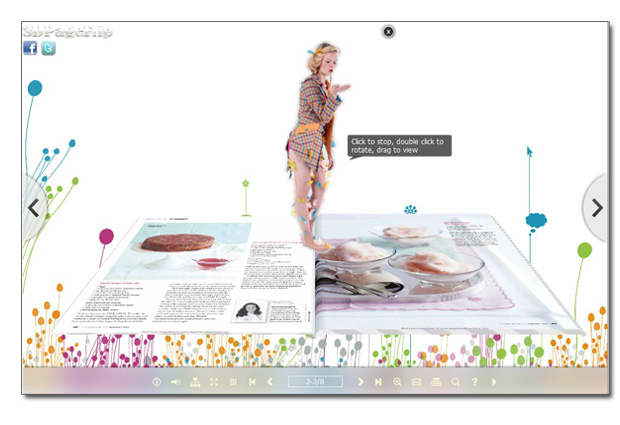 Features:
1. Covert text document to flash magazine in very short time.
2. Generate flash magazines with vivid 3D effect.
3. Support background color setting, button setting, panel setting and text setting.
4. Support to insert your author info, home page, email, etc.
5. Provide multiple options for templates selecting.
6. Users can turn flip book pages in different ways, by dragging page corner or clicking buttons.
7. Support password setting for targeted page to offer flipbook security protection.
8. Support to create catalog for flipping book.
9. Support page quality setting.
10. The output flash magazine is easy to be shared online with HTML format.