Boxoft Free Flipping Book Software lets users to publish HTML flipping book onto website and blog without any scripting or HTML code. You don't need any program skill and flash knowledge. The free converter does all the things for you automatically with a few clicks.
Why Flipping Book Is More Readable?
In this world of technology, we are no longer satisfied without any change. People are tend to make everything unique and standout. A flipping book is an ebook which contains a series of colorful images and buttons that tends to vary gradually from one page to another, with the purpose that the pages are flipped or turned promptly. User experience is a very important factor that influences user's final decision. You just hit two birds with one stone with the free flipping book converter to save money and attract customer at the same time. Take an example that when there is too large information on a text brochure, it will be tedious to read the plain words. Flash template and realistic page turning effect play a practical role at this time, as it's totally different from original appearance.
What Flipping Book Software Can Do For You?
What's more, flipping book can be customized as per requirement. This widens application of flipping book software obviously. As to personal use, I recommend to design flash based ebook for your girlfriend or boyfriend to commemorate important days. Write down the words you want to say to her/him into a text file. Import this text into the free flip book maker and design it carefully. Finally, publish the flip book on you blog to share with others, or only create an executive flip book to bring your friend a surprise. I suppose it as the cheapest but meaningful thing to express love.
By the way, if you want to publish 3D Page Flip Book to promote your business, an application enjoys good reputation is required. With the assistance of software, you attract readers and maintain the quality of publication, share current affairs and successfully promote your business. If people are interested in your flipping book, they will come to know more about your business and products and services that you offer. This action will create awareness which will help to expanse your customer base. Just go ahead to have a nice experience of flippingbook!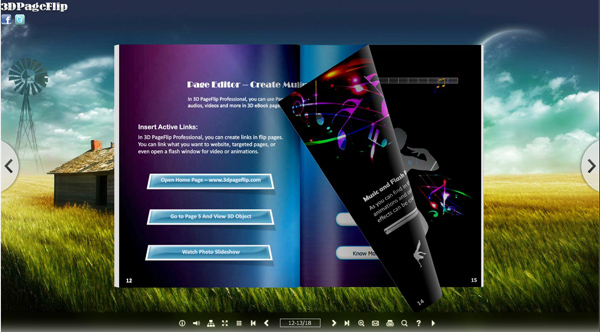 Import options
1. Import text file in a high speed;
2. Place a custom text or image watermark to flipping book;
3. Adjust page quality and size.
Customize unique template
1. Show Navigation initially
a. Create Bookmark in the left panel that reader can click to open specific page in a second;
b. Show thumbnails in the left of the flash window.
2. Define buttons in the toolbar
a. Auto – enable flipping book to play automatically;
b. Home – show home button with a page URL;
c. Share – define link of the flipping book as Email body and enable reader to share it with ease;
d. Help – provide help information;
e. Full Screen – enable full screen mode to read the flipping book;
f. Download – make the flipping book downloadable;
g. Search – search information quickly;
h. Print – enable print;
i. Zoom in – zoom in to read small characters in the flipping book;
j. Sound – import a piece of beautiful background music;
3. Import background image or apply gradient color to background;
4. Set page properties base on specific situation;
5. Set page shadow to make a 3D effect;
6. Two page flip directions: Right to Left and Left to Right;
7. Two cover edition: Hard Cover and Soft Cover;
8. Change colors for icon, font, toolbar, page background, flash window, etc;
9. Adjust page flipping time;
10. Eleven languages choices: English, Arabic, Cantonese, Cantonesel, Chinese, French, German, Greek, Hebrew, Italian, Japanese and Portuguese;
11. Add security password to protect your flipping book.
Flexible output
*.html, publish flipping book online, open it with browser;
*.zip, send the flipping book to friends via email;
*.exe, stand alone flipping book which is executive;
Burn to CD, save created ebook into a CD.